On the road to future-proofing all digital content:
How Portico now preserves libraries' self-curated collections
Libraries hold rich and unique collections that are critical to research, teaching, and learning. Yet, staff changes, hardware obsolescence, or local data loss could threaten the availability of your digital material or the continuity of your program. 
Enter Portico, one of the world's leading preservation archives. As the foundation for preserved collections, Portico offers a robust solution to safeguard the accessibility of your institution's digital files for the long term.
Portico's legacy of preservation
Portico has earned its reputation as a trusted guardian of digital content for publishers, with over 1,000 publishers and 1,000 libraries worldwide relying on its time-honored preservation approach. Portico centers long-term content management and organizational commitment, as well as a dedication to addressing the needs of future scholars.
Portico's approach and policies are developed in collaboration with the library and publishing communities. Its trusted process guarantees that preserved content in digital collections remain secure and available for the scholars and students of tomorrow.
This legacy makes Portico the perfect partner in the preservation of content for libraries.
Understanding library preservation needs
While publishers looking to preserve content have a defined set of needs, so do libraries­. Portico's expertise, policies, and infrastructure are well positioned to address library preservation requirements.
True preservation: beyond short-term protections
Differentiation between short-term digital content protection and lasting preservation is essential. While backups, system redundancies, and byte-level replication are valuable, they do not guarantee reliable preservation over the long haul. True digital preservation, the kind provided by Portico, ensures four critical factors over the very long term:
Usability

: Portico recurrently monitors all content for any indications of mediating technologies becoming obsolete, ensuring that content remains operational.

Authenticity

: Portico guarantees that all content is authentic and verifiable by maintaining a meticulous audit trail of all the content it receives and its subsequent handling.

Discoverability

: Detailed bibliographic metadata of all preserved content is maintained by Portico, ensuring that it can always be found when needed.

Accessibility:

Portico ensures that participating institutions' content remains accessible to administrators, and will provide support if something happens to their access mechanisms. Moreover, institutions have the option to

share their preserved collections openly on JSTOR

, a platform where millions begin their academic work.
To achieve these goals, Portico adheres to rigorous standards, policies, and processes for content management, upkeep, and reproduction of archives. Plus, we preserve content in three locations in different geographical regions for maximum security.
How the preservation process works with preserved collections
Leveraging Portico's trusted publisher preservation process, preserved collections help libraries preserve their institutions' self-curated collections. Here's how it works: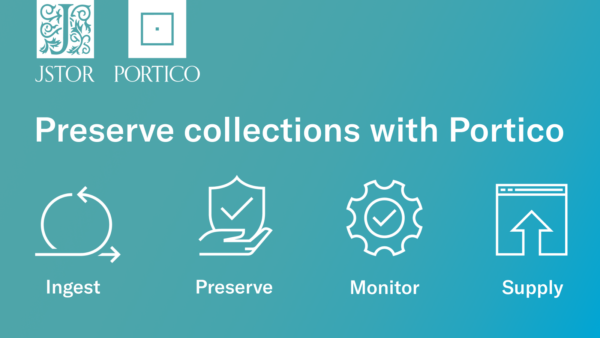 Ingest:

Portico ingests

content into the archive following the specific preservation plan, including validating files, extracting key technical and descriptive metadata, capturing all actions taken on the content, and more. We also offer collection harvesting for preservation, with no limits to the number of objects, collections, or updates.

Preserve:

Portico preserves content in three locations in different geographical regions for maximum security. We also refresh server hardware as needed while keeping operating systems secure and up to date.

Monitor:

Portico monitors

files within the archive to ensure they do not change over time. Portico has the ability to quickly replace corrupted files from one of the replicas where they are discovered.

Supply: Portico supplies preserved content if something happens to a participating institutions' mechanism for access.
We also offer collection harvesting and can upload metadata from spreadsheets or existing repositories, with quarterly updates and no limits to the number of objects or collections. 
Getting started with preserved collections
In the rapidly evolving information landscape, safeguarding digital content is not a luxury but a necessity. Institutions need solutions that delve deep into the intricacies of preservation. 
Portico stands as a reliable partner, offering thorough preservation solutions that protect digital collections, ensuring their security and accessibility for future generations.
Join over 1,000 libraries worldwide in putting preserved collections to work. Fill out the interest form to discover how. This is not just preservation; it is a partnership in securing the legacy of digital content for generations to come.
Through decades of offering trusted nonprofit resources like JSTOR and Portico, ITHAKA has built the infrastructure services that enable you to make your collections discoverable and free of paywalls to a global community of faculty, students, and researchers, and to ensure your content remains accessible for generations.
Kate Wittenberg, Managing Director, Portico, a nonprofit service of ITHAKA–Kate Wittenberg serves as the managing director of Portico, a community-supported preservation archive that safeguards access to digital collections as part of the nonprofit ITHAKA. For over ten years, Kate has partnered with academic publishers, libraries, administrators, and government agencies, to enhance Portico's strategic vision as shifts in scholarly publishing, higher education, and other sectors present new needs, opportunities, and challenges in preserving scholarship.
Jason Przybylski, Associate Director, Infrastructure Services, Outreach & Participation, JSTOR, a nonprofit service of ITHAKA–Jason Przybylski has been with ITHAKA for over ten years, where he has helped develop JSTOR's archival journal and primary source programs in response to needs from the library, higher education, and publisher communities. Since 2020 he has been part of the team that ran the Open Community Collections charter program, which developed into ITHAKA's suite of infrastructure services to share, manage, and preserve institutions' digital collections, and launched in July 2023