JSTOR's DDA ebook program
at the University of the Fraser Valley
The University of the Fraser Valley Library has implemented Demand-Driven Acquisition to offer its patrons more breadth, depth, and currency in its ebook offerings, while accommodating constraints on budgets and staff time. Patti Wilson, Collections and Electronic Resource Librarian, discusses why DDA works so well for her institution and shares some of the surprising insights from UFV's usage trends.
About our university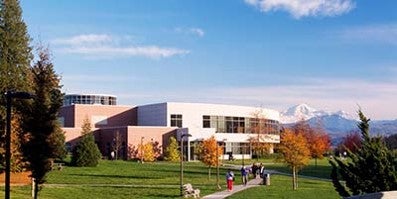 University of the Fraser Valley is a medium-sized institution in British Columbia. We have 6,676 full-time equivalent students, primarily undergraduate, and degrees in a variety of disciplines: Arts, Social Sciences, Sciences, Health Sciences, Business, Education, and more.
Collection development challenges
We had rapid growth of programs in new areas. Back when we started in 1974, we were a community college, and then in 1991 became a university college, then in 2008 became a full-fledged university. In that time, they added more and more degrees, more and more programs, and our budget pie was getting divided smaller and smaller.
We have multiple campuses to serve, and there was a real push to having more online courses and having material available 24/7. We have finite space for our print collections and we do not have any offsite storage.
We have a fairly small number of full-time equivalent librarians, and the librarians all have multiple liaison areas as well. We'd have just one or two cataloguing staff, and for years we had a very large cataloguing backlog. When we acquired print books, it could take up to a year and a half for them to make it onto the shelves.
Meeting patrons' research needs with DDA
When we go with DDA plans, we're buying items to meet a known demand either from faculty or students. It increases the access to thousands of current academic titles in subject areas that may have been overlooked. We have a fairly small budget; we just can't purchase everything that's been published in our areas that they teach in. With the JSTOR title list being integrated with journals, our users can discover and take a look at them. It's very immediate. We don't have that year-and-a-half wait for that item to get on the shelf. We really find that the breadth and the depth of what we can cover and the currency really improves. And there's this feeling that the library's always open, so you'll look at your reports and see that, yes, they were actually looking at books on Christmas Day, Boxing Day, all kinds of times when we're not here.
Identifying new research and curriculum needs
With DDA, you can see the trends in student research needs that you weren't aware of. You can see not just what's been purchased, but what they're using and viewing, and analyze it by subject area. When you look at your reports you'll see, oh my goodness, everybody this semester is interested in the Crusades or Galileo or the Vikings or something like that, and you may not have been thinking about purchasing in that area.
The list of publishers that our students used the most was really interesting for us. I would have expected University of Toronto and McGill-Queen's to be top publishers, but I don't think I ever would have guessed some of the smaller presses that had high usage. We have a small number of librarians, and we don't really have time to peruse the catalogues from every publisher. This book, People of the Saltwater: An Ethnography of Git lax m'oon, is our number one title. It's been used hundreds of times. It's from University of Nebraska Press; I probably never would have known to even think of buying that.
Why JSTOR?
We started off with a DDA program from a different vendor. We gave them our deposit and we went through our funds very, very quickly. We did it at a time when publishers were rapidly increasing their short-term loan costs, and we spent 67 percent of our funds on short term loans. It was also hard to tailor the package to cut out the popular press travel guides, self-help books, and that kind of thing, to keep our content academic.
There were a number of reasons we decided to go with JSTOR the next year. The platform has real name recognition. When the students talk about databases they know JSTOR, and it's a well-used platform.
The content is high quality, with university presses and academic publishers. The disciplines that are covered are a good match for our programs at UFV. The top disciplines here are history, literature, and social sciences; there was a good match with the JSTOR content.
Having the one JSTOR search that brings back an integrated list of journal and book chapters really helps make the book chapters more discoverable. All the purchases have multiple-user, unlimited access, and the DRM-free downloads are very appealing. With our previous vendor you had to use Adobe Digital Editions, and there's always that complication of, "I need another password. I need another piece of software. How do I do this?" This is so much simpler.
I really like the generous purchase triggers of six views or four downloads, and not having to pay the short-term loan costs. Our previous plan had a much quicker trigger.
We were also able to set up a profile to tailor the available content. We decided which publishers to include or exclude, and we went with all subjects. I'm happy that they now have a language limiter because before I was trying to find and exclude the Spanish-language publishers. Now I can ask for only English-language materials. And then we set our maximum price limit per title.
Addressing challenges
We did some initial deduplication between our subscription ebook package and JSTOR DDA. I do find that we are still purchasing some JSTOR titles that are in our subscription packages, but I don't feel too bad about that because subscription titles get pulled on a regular basis. They come and go. So if it's an important title that is used a lot, it's not bad for us to have our own copy.
One thing I didn't anticipate is that some titles with use but not purchased yet may be withdrawn from the DDA. One of the reasons is that the price may have increased past the maximum price threshold that you set so you may need to look at that threshold and bump it up higher, or contact JSTOR and arrange to purchase that one anyway. License rights may also change. You'll see these titles in your reports, so you can review them.
Measuring the results
We started JSTOR DDA in September 2015, and in two and a half years we've purchased 676 books and used 3,625 books. The average cost of a book that we've purchased is $53.80, and we get a very generous discount off the list price, as we have a number of the JSTOR journal collections. That's a very reasonable price for an ebook and it is not far off our average price of a print book.
The cost per book used is $10.07; that's our total spend divided by the number of books used. The cost per chapter download or view is quite low, at $2.11. Around 94% of the titles have been used more than the trigger threshold—they've been used subsequent to the event that triggered the purchase.
Conclusion and recommendations
For anyone who begins participating in DDA with JSTOR, I definitely recommend signing up for the weekly usage reports. Also, keep track of the deposits that you make. I discovered this a little late, but now I have a spreadsheet. You think you're going to remember, but after two and a half years, it can be difficult.
I also recommend that you set a maximum price threshold, as a few titles are very expensive. Plan your strategy regarding catalog records: how and where you want to load them, how to identify DDA titles, and so on. And over time, figure out your spend rate and budget accordingly.
The faculty reception has been very positive; they're very happy with the JSTOR ebooks. We plan to continue participation in the JSTOR DDA program for the foreseeable future. We are committed to using DDA as an acquisition model, and we are very happy with our program with JSTOR.