JSTOR Daily Awarded the 2023 Folio: Eddie Award for Editorial Excellence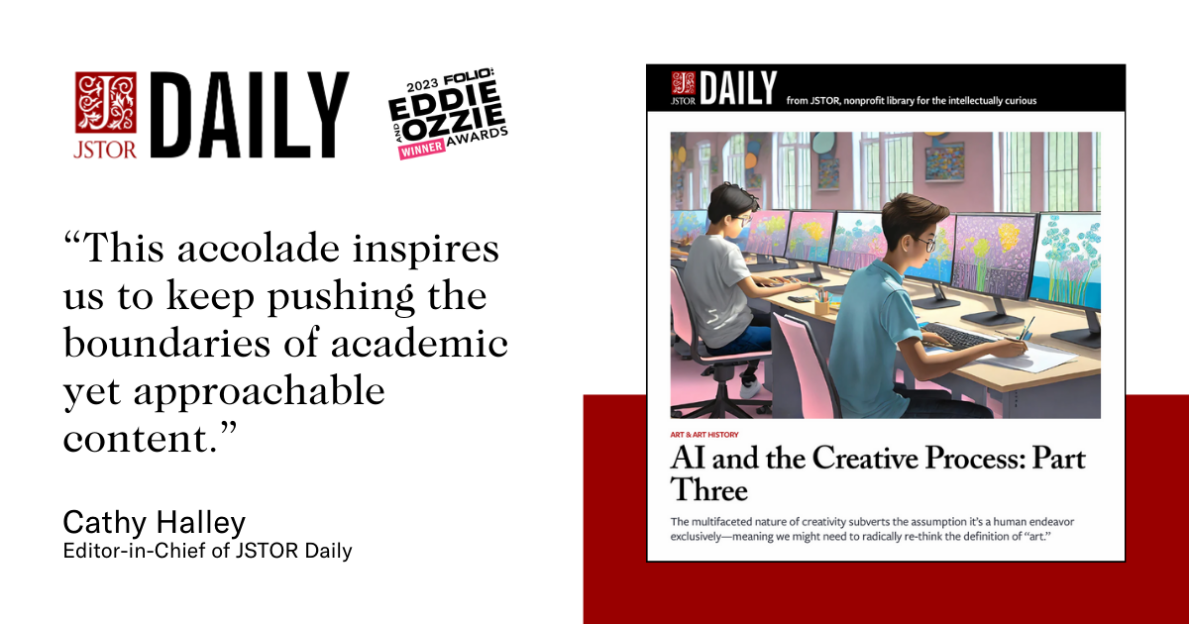 JSTOR Daily, established in 2014 with a mission to make scholarly materials more accessible and relevant to a general audience, is proud to announce its recent recognition at the 2023 Folio: Eddie Awards. Honored for its editorial excellence among nonprofit websites, JSTOR Daily stands as a testament to the importance of bridging the divide between academia and the public in an increasingly fraught information landscape.
The Folio: Eddies & Ozzies Awards, described as "the most prestigious recognition program in the publishing community," applauds excellence in editorial content and design across varied media worldwide. This year, the awards garnered more than 1,100 entries, with prominent publications such as Harvard Business Review and AARP gaining honorable mentions in the nonprofit website category.
"Since its inception, JSTOR Daily has grown into a trusted online publication, uniquely advancing ITHAKA's mission to make educational resources more accessible and affordable for people all over the world." says ITHAKA's president, Kevin Guthrie. Originating with JSTOR, ITHAKA offers a diverse portfolio of services and initiatives dedicated to improving global access to knowledge. "JSTOR Daily plays an essential role in providing contemporary context and broad reach for open access primary and secondary source content, and in connecting with the faculty and students worldwide who rely on JSTOR for their teaching and research."
Each story published on JSTOR Daily is based on fact and grounded in careful scholarly research drawing from the JSTOR corpus, and provides free links to scholarship for all readers, regardless of their institutional affiliation. Today, the publication has amassed over 6,500 stories, reaching an average of 6.3M unique visitors annually over the past three years and trending to grow to reach 8M in 2023.
Reacting to the honor, Cathy Halley, Editor-in-Chief of JSTOR Daily, remarked, "The team at JSTOR Daily wishes to extend our heartfelt gratitude to our readers, contributors, and members for their continuous support and trust. This accolade inspires us to keep pushing the boundaries of academic yet approachable content."
Visit daily.jstor.org for free access to all JSTOR Daily articles. While JSTOR Daily is primarily subsidized by ITHAKA in support of its mission, readers can also opt-in to a JSTOR Daily membership program which offers exclusive benefits and helps cover a portion of the costs associated with writing, editing and fact checking the publication.
About JSTOR Daily
JSTOR Daily, an initiative of ITHAKA, provides context for current events using scholarship found in JSTOR, a digital library of academic journals, books, and other material. JSTOR Daily's mission is to bridge the gap between academia and the general public, fostering a well-informed community. ITHAKA helps institutions and individuals accelerate the impact of research and learning through its diverse portfolio of nonprofit services which also includes Artstor, where you can search over 270 collections from the world's museums, archives, libraries, artists, and scholars all in one place; Constellate, a platform for teaching and learning text analysis; Ithaka S+R, whose strategic advice and support services help institutions improve their performance and further their missions; Portico, a community-supported preservation archive that safeguards access to e-journals, ebooks, and digital collections; and Reveal Digital, which uses a library crowdfunding model to digitize and publish open access primary source collections from underrepresented 20th-century voices.
For further details or media inquiries, please contact heidi.mcgregor@ithaka.org