JSTOR Labs collaborates with Library of Congress Labs on "Inside Baseball"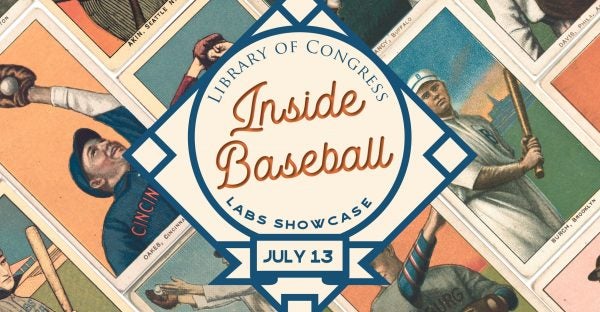 This July 9-12, Library of Congress Labs is hosting "Inside Baseball," a collaborative flash build with JSTOR Labs of new digital tools to explore the Library's baseball-related collections data, building resources, and visualizations.
"Inside Baseball" will also work to connect collections across institutions through a partnership with the Smithsonian's National Museum of African American History and Culture, incorporating their baseball holdings into the flash build's data set.
"We are so excited to join forces with JSTOR Labs and the National Museum of African American History and Culture to highlight how the American pastime is represented in our collections," said LC Labs Senior Innovation Specialist Abigail Potter. "This is an unparalleled opportunity to see where we can bridge gaps and learn how our collections complement each other."
"We're thrilled to partner with the great folks in the LC Labs team, and to share with them some of the techniques we've used," said Alex Humphreys, the director of JSTOR Labs. "A week is not very long, but it's amazing to see the enormous leaps a creative team can take in that time. I can't wait to see what leaps the two teams can take together, and am especially interested to see if we can find interesting new ways to connect diverse corpora using the subject of baseball as a unifying topic."
On July 13, LC Labs will host an "Inside Baseball Labs Showcase," a public demonstration of the week's efforts. In addition to presentations from JSTOR Labs and NMAAHC on the design process and collections used, the LC Labs team hopes to unveil a new baseball data set with which researchers and enthusiasts can create new tools on their own. The showcase will culminate with a conversation on baseball and American cultural memory featuring speakers from both the sporting and academic worlds. The event will be live-streamed on YouTube.