Sponsor profile: Shelley James & BISH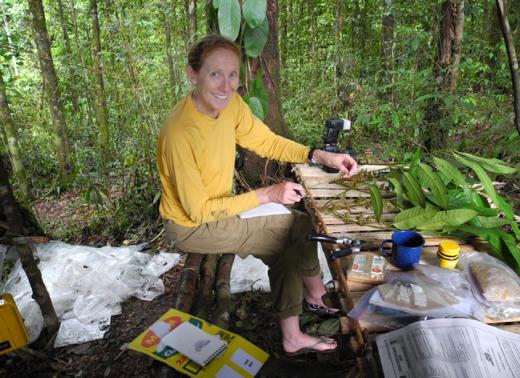 Shelley James is a Curator and Expedition Leader at the Bernice Pauahi Bishop Museum's Herbarium Pacificum (BISH) in Honolulu, Hawaii. She met with us to talk about her work and tell us why she chose to sponsor access to Global Plants for the National Herbarium at the Papua New Guinea Forest Institute (LAE). The two institutions have a long history of collaboration, and the Museum's expeditions to Papua New Guinea date back to its founding in 1889.
Could you tell us about your research interests, the expeditions to Papua New Guinea, and how these tie into your collaboration with and training of botanists at LAE?
Well, we've had 200 expeditions to Papua New Guinea since the founding of BISH in 1889. The earliest ones involved ships to reach remote locations and, even today, we travel to places that have yet to be fully explored. My own mission in life is to make hard-to-access collection data available to college-level students and researchers. Maybe that's why I so enjoy helping to train LAE's staff, in addition to continually discovering new species and recording them. It is as part of this close working relationship that BISH decided to sponsor two years of JSTOR Global Plants access for LAE. Researchers and staff at LAE will have full access to the database's specimens, data, and materials, which we believe will help them greatly to support their collection and, more generally, the curation of Papua New Guinea's biodiversity.
Why is Global Plants so important, and what are some of your favorite aspects of the resource?
I recently gave LAE's senior botanist Kipiro Damas a demonstration of what Global Plants could do, and his reaction was one of delighted surprise: "Wow! This is amazing!" he said. Clearly, the resource is going to be put to good use in the hands of Kipiro and his team, as they work to catalog their vast array of specimens.Global Plants is a critical resource in the combined efforts of BISH and LAE to curate and share type specimens from Papua New Guinea, which has some of the most species rich areas–with 6% of the world's flora and much species endemism. Despite the region's wealth of biodiversity, there is no adequate inventory, nor are there significant specimen collections, of any plant family in Papua New Guinea. Both BISH and LAE strive to document and share this botanical abundance as part of the Pacific Biological Survey .
Could you tell us about the genesis of the collaboration with LAE and how your joint expeditions take place concretely?
The collaboration was born from the long history between LAE and BISH, which dates from just post-World War II. My relationship stems from that of my predecessor, as well as our tradition of taking our work out into the field.
The work we do together involves many aspects. There is a lot of footwork: we hire local villagers, get agreements from local landowners to collect on their land, and more. We always try to hire as many people locally as possible–carriers, camp builders, cooks… Sometimes we chopper in, sometimes we charter a plane. We walk into the forest and set up camp there. We have to bring all our gear, and if we forget something, it can be a bit of a problem: we are at least two weeks, if not four, in the field.
Finally, could you remind us why you decided to sponsor a herbarium?
We wanted to say "thank you" to LAE for their friendship, assistance, and fieldwork support. Having worked on so many expeditions together to document the floral biodiversity of Papua New Guinea, I thought it was fitting. Without Global Plants, LAE would never have access to such a rich resource. I think it helps LAE's researchers on several levels: avoiding naming errors, exploring confirming their findings thanks to the high-resolution images, and enabling them to fully observe best practices. Championing LAE also supports BISH's mission to preserve the natural and cultural history of the Pacific. With the growing challenges of climate change and deforestation, BISH and LAE have an urgent mission to record botanical history and biodiversity before it is lost.
Global Plants Sponsorship
Interested in sponsorship for your herbarium? Find out more here.
Questions, thoughts, or comments? Email Deirdre Ryan, ITHAKA's director of Primary Sources.