User profile: Gwenaël Le Bras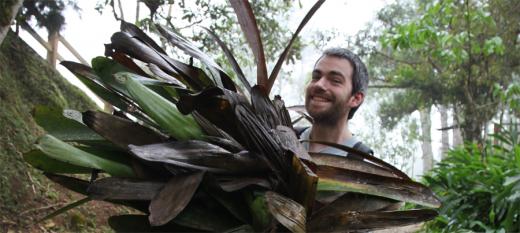 Gwenaël Le Bras was a database coordinator at the National Herbarium in Paris, acting as a liaison between the GPI team and the IT department of Muséum d'Histoire Naturelle, Paris (MNHN), before moving on to work on the national French portal e-ReColNat. There, he currently divides his time between H SONNERAT (botany), ARTHROTER (arthropods) and INVMAR (marine invertebrates and terrestrial mollusks).
When Gwenaël told us what an impact working on Global Plants had had on his career ("Global Plants has been seeding competences in many different ways, and that's a side effect you may be proud of!" he told us), we asked him to fill us in on the details. During our interview, he revealed a commitment not only to his work but also to the continued process of learning and exploring at any given chance.
JSTOR: You attended the Global Plants Initiative meeting in Panamá in 2011, but how did you end up holding that giant Bromelia? (see photo above)
That was my first step in [the cloud forest of Panamá's Highlands]. I discovered the beauty of the Panamanian rainforest and the great Bromeliaceae! I was amazed by its size, [being] more used to the tiny Tillandsia and the little Bromelia that one can find in [any given] flower shop in Paris. What a treat to see an ephiphytic Bromelia of that size, in person!
JSTOR: A highlight of your time working on Global Plants, no doubt.
Yes!
JSTOR: Please tell us a bit about how you came to work at MNHN and on Global Plants.
Well, I was not a botanist when starting [as a technician] on the GPI project in November 2008 at MNHN. I was a naturalist and had studied ecology at the University of Rennes, but was more interested in zoology. More because I had to make a choice in my studies, than because botany didn't [prove] attractive.  I was in the right place at the right time, I suppose. When I arrived in Paris, after finishing university and spending three years in Greece, a friend of mine, Vincent Bourguignon, was working on the GPI project, and Pascale Chesselet was looking for someone to work with him on Polynesian types. I got the position, [at first as] a technician [working on] digitization, doing scans … [Global Plants] was my first step in the [world of] botany!
JSTOR: You aren't exactly a botanist but you work on projects related to botany, using everything you learned while working on Global Plants. How would you describe yourself and your work?
Hmmm. My experience [working on] Global Plants introduced me to the history of botany and botanical nomenclature, [as well as] collection databasing. For example, I still cannot name most of the plants I meet in the field, but if you give me a name, I can tell you in [most cases] whether this name is a valid one through the literature. The botanists and entomologists say I work in bio-informatics, but programmers and developers call me a botanist or entomologist, when we are talking about one or the other database! I'm something [of] a bridge in between various departments, helping [them] to understand each other.
JSTOR: How did you then go from technician to coordinator responsible for nomenclature on the Global Plants team at MNHN, and how did you build the skills you use today in your role with other biodiversity databases?
[One] step at a time. First, [beginning with] the Polynesian collections that really needed type research. They were/are very rich, and it was easy to find [what was needed]. And I had a good teacher [in] Vincent and Frederic Tronchet.  [Since] I'm interested in history, I always checked the history of the materials I got, as the scan was running. [By the same token], I [was] curious to understand what was behind the scene of the databasing tool, [how] the data was managed, before sending the batches to you. [Being] part of the [production] team at the very beginning helped me a lot to understand things, and find some [basic] mistakes that would help the rest of the team improve their data quality. Thanks to the skills I acquired working on Global Plants, like how to structure a data entry and how to check on the structure of a database, or how to quickly identify problems, I was able to transition to the MNHN team working on the European-funded project OpenUp [in 2013], [as long as] I agreed to learn the [basics] of SQL. That opened the door, and when OpenUp ended in 2014, I [got] the job I [now] have, improving the data on terrestrial arthropods, marine invertebrates, and SONNERAT—the database of [phanerogams] and France's network of [herbaria].  Global Plants has been seeding competences in many different ways (and not only botany), and that's a side effect you may be proud of!
JSTOR: What a wonderful story. In closing, please think about your favorite aspect or aspects of Global Plants.
It's hard to [say], there are so many. At the GPI meetings, I got to understand how many people working together [could build] such a big tool for botanical systematics. Global Plants creates bonds between colleagues, and probably helps bring in competences and [become] the young generations of technicians some new blood [into] the community. And, of course, it allowed many people like me, but I'm really not an isolated case, to [develop] competences and [become] the young generations of technicians and engineers that got their start with GPI. And that's a really nice side effect.